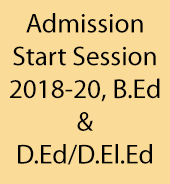 About Us
Ch. Matu Ram College of Education was established by Amar Educational Society, Village Jainpur Jattan, Distt. - Kurukshetra. The courses running are recognised by NCTE (National Council for Teacher Education) and affiliated K.U.K. The college is housed in a well spread building with spacious class rooms, well equipped with spacious class rooms, well-equipped laboratories, Library, Play Ground and Canteen for providing nutritious refreshment.

The college has highly qualified, trained, dedicated, competent, experienced and unmatched faculty as per the conditions laid down by NCTE and K.U.K. The Principal is highly qualified having vast administrative and teaching experience to steer the college in right direction. The institutes keeps in mind the needs and demands of the students and provides them all the facilities and thus achieving excellence in each field of education.

Our institution provides a healthy environment which is full of greenery, parks, hostel facilities and canteen facilities etc. Students are benefited the most because along with a healthy environment they are achieving quality education in our institution. Excellent and skilled teaching staff always remains ready to provide their services and treasure of knowledge to students and make efforts day and right so that their students can achieve a recognizable place in society.

"Teacher is a philosopher, friend and guide helping the education to forward in his own way."